The United States Army in the American Civil War was mostly made up of regiments of infantry and cavalry and batteries of artillery. With the exception of a small number of units from the United States Regular Army, most were organized, armed and equipped by the individual states and taken into national service.
Of the nineteen free states, all but Kansas, California and Oregon sent one or more regiments to the Eastern Theater, although the majority of the men from Ohio to the west fought elsewhere.
Of the slave states that remained in the Union, Missouri and Kentucky sent no troops to the east. Maryland sent units to both sides. Delaware sent several thousand men to the Union army and was the only slave state that provided no organized units to the Confederacy. West Virginia was part of Virginia until the war. But much of it was strongly pro-Union and broke away to become an independent state in 1863.
Select any state from the map or the menu to see information on its regiments and batteries.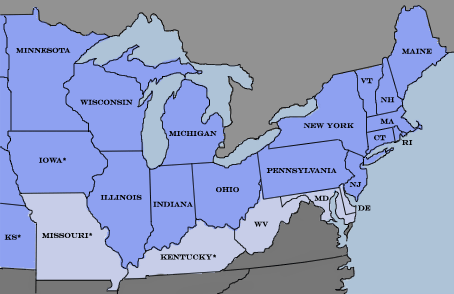 Contributions of men and units by each state to the Union army*:
Connecticut
53,721 men
33 regiments and 3 batteries
Delaware
12,280 men
10 regiments and 2 batteries
District of Columbia
15,181 men
3 regiments
Illinois
256,868 men
173 regiments and 35 batteries
Indiana
195,285 men
167 regiments and 26 batteries
Iowa
75,797 men
64 regiments
Maine
65,077 men
36 regiments and 7 batteries
Maryland
42,713 men
24 regiments and 6 batteries
Massachusetts
125,747 men
80 regiments and 48 batteries
Michigan
86,866 men
79 regiments and 14 batteries
Minnesota
24,017 men
14 regiments and 3 batteries
New Hampshire
33,055 men
21 regiments and 1 battery
New Jersey
68,685 men
44 regiments and 5 batteries
New York
413,686 men
316 regiments and 77 batteries
Ohio
309,906 men
249 regiments and 42 batteries
Pennsylvania
323,629 men
291 regiments and 35 batteries
Rhode Island
21,358 men
18 regiments and 10 batteries
Vermont
32,669 men
20 regiments and 3 batteries
West Virginia
32,068 men
27 regiments and 8 batteries
Wisconsin
91,194 men
59 regiments and 13 batteries
United States Regular Army
16 regiments and 60 batteries
United States Colored Troops
175 regiments
United States Veteran Infantry
9 regiments


*Only states that contributed to the Eastern Theater are shown in the table, but contributions of men and units shown in the table are for all theaters.