John F. Reynolds was a career United States Army officer who became one of the highest ranking officers in the Union army. He was killed in the early hours of the Battle of Gettysburg.
Early Life
John Reynolds was born in Lancaster, Pennsylvania on September 21, 1820. His parents, John and Lydia Moore Reynolds, had eight other children that survived to adulthood. John studied at nearby Lititz and in Long Green, Maryland before returning to Lancaster to the Lamvaster County Academy.
Family friend Senator James Buchanan nominated Reynolds to attend the United States Military Academy in 1837. He was a cadet in the West Point Class of 1841, and ranked 26 out of 50 cadets at graduation. His classmates included Don Carlos Buell, Abraham Buford, Richard Brooke Garnett, Israel B. Richardson, Horatio G. Wright and Amiel W. Whipple – 22 graduates of the class reached the rank of general.
Early Military Career
Reynolds was commissioned on July 1, 1841 as a brevet second lieutenant in the Third United States Artillery Regiment. He was assigned to Forth McHenry, Maryland, and promoted to full Second Lieutenant on October 23, 1841. In 1842 he moved to Florida, where he was assigned to Fort Pickens and then Fort Marion before moving to Fort Moultrie, South Carolina in 1843.
Mexican War
Lieutenant John Reynolds was sent to Corpus Christie, Texas in 1845 to join General Zachary Taylor's army in the military occupation of Texas. On June 18 Reynolds was promoted to First Lieutenant. He fought in the Battle of Monterey on September 21‑23, 1846, where he was awarded a promotion to brevet captain for "Gallant and Meritorious Conduct." He was awarded another brevet promotion on February 23, 1847, for his conduct at the Battle of Buena Vista, when he protected the left flank of the Taylor's army from Mexican cavalry with his section of artillery.
Between the Wars
Reynolds returned to the United States and was assigned to Fort Trumbull, Connecticut and then Fort Preble, Maine in 1848. He was appointed Quartermaster of the Third Artillery on Oct. 25, 1850, moving to Fort Adams, Rhode Island in 1851. On Feb. 14, 1852 Reynolds was appointed Aide-de-Camp to Major General Twiggs in New Orleans, Louisiana, a position he held until Nov. 30, 1853.
In 1854 Reynolds was stationed in New York at Fort Lafayette and then Fort Wood. He marched west to Utah in 1854 and was stationed in Salt Lake City until 1855, when he moved to Fort Yuma, California, then Benicia, California and to Fort Orford, Oregon. On March 3, 1855 John Reynolds was promoted to captain in the Third Artillery Regiment.
In 1856 Reynolds took part in the Rogue River Expedition against native americans in southern Oregon, where he was engaged in several skirmishes. At the end 1856 he returned east and was assigned to Fort Monroe, Virginia. In 1858 he was sent to Fort Leavenworth, Kansas for frontier duty. Fort Leavenworth was the jumping off point for Albert Sidney Johnston's Utah Expedition. When the Mormon War ended in a negotiated resolution the Third Artillery continued west to the Columbia River and Fort Vancouver, Washington.
On Sep. 8, 1860 Reynolds was appointed Commandant of Cadets at the United States Military Academy as well as Instructor of Artillery, Infantry, and Cavalry Tactics. During this time he became engaged to Catherine Mary Hewitt. Since Reynolds was protestant and Hewitt was Catholic they kept their engagement a secret for the time being.
Civil War
On May 14, 1861 Reynolds was promoted to lieutenant colonel of the 14th United States Infantry Regiment. He had been offered the position of aide-de-camp to General Winfield Scott, but declined. Reynolds left West Point on June 25, 1861 to join the 14th Infantry at Fort Trumbull, Connecticut on July 6. But high quality officers were in demand in the rapidly growing Union army. On August 20 he was commissioned as a brigadier general of volunteers and was ordered to Washington. This was quickly changed to North Carolina, then changed again to the Army of the Potomac as member of an exam board. Finally, Pennsylvania's Governor Curtin used his political influence to snare Reynolds to command one of the three brigades of the newly-formed Pennsylvania Reserves Division.
The Pennsylvania Reserves were in the defensive lines before Washington D.C. from September of 1861. In June of 1862 the Army of the Potomac took part in McClellan's amphibious flanking movement on Richmond that would become known as the Penninsular Campaign. On the way to join McClellan by land from Manassas, the Pennsylvania Reserves passed through Fredericksburg, and Reynolds became its military governor for a short time.
Penninsular Campaign
Battle of Mechanicsville, June 26, 1862
Battle of Gaines's Mill, June 27, 1862
Battle of Glendale, June 30, 1862 – Reynolds was captured in Boatswain's Swamp, Virginia when he fell asleep after two days of continuous fighting and did not know that his troops had retreated and left him behind. He was moved to Richmond and held at Libby Prison, but was exchanged on August 15 for Lloyd Tilghman.
When Reynolds returned to the army he took over the Pennsylvania Reserves Division from Brigadier General George McCall, who had been captured two days after Reynolds.
Northern Virginia Campaign
Second Battle of Bull Run (Manassas), Aug. 29‑30, 1862 – Reynolds led a counterattack on Henry House Hill that bought the rest of the army time to leave the battlefield in order, possibly preventing its destruction.
As Lee's army reached towards Pennsylvania during the Maryland Campaign Governor Curtin requested that Reynolds be detached from the Army of the Potomac to take command of the Pennsylvania militia. Both General McClellan and General Hooker complained at the loss of one of their best officers in the midst of a critical campaign, but Curtin had the political power, and Reynolds missed the Battle of Antietam (Sharpsburg) while he trained old men and boys back in Pennsylvania.
Reynolds returned to the army later in September and took command of the First Corps, as General Hooker had been wounded at Antietam and was not yet recovered.
Rappahannock Campaign
March to Falmouth, Va., Oct.‑Nov., 1862
Reynolds was promoted to Major General of Volunteers on November 29, 1862.
Battle of Fredericksburg, Dec. 13, 1862
Battle of Chancellorsville (in reserve), May 2‑4, 1863 – After Chancellorsville Reyolds joined the group of generals who advocated for Hooker's removal from command of the army. Lincoln met with Reynolds and offered him command of the Army of the Potomac, but he would only accept if Lincoln could guarantee him freedom from interference from superiors in Washington, both military and political, which had crippled earlier generals. The job ultimately went to Reynolds' subordinate (and good friend) George Meade.
Gettysburg Campaign
Meade gave John Reynolds temporary command of the left wing of the Army of the Potomac. This consisted of the Eleventh and Third Corps as well as his own First Corps, which would be under the command of senior division commander Abner Doubleday.
Battle of Gettysburg, July 1 – Major General John F. Reynolds was killed in the early hours of the first day of the battle while leading the First Corps into the attack. His decision to commit his infantry to support Buford's cavalry decided that the major battle with Lee's army would be at Gettysburg and that the Union army would take advantage of the excellent defensive terrain around the town.
Death
Reynolds was shot in the back of the head while urging the men of the Iron Brigade forward. He died almost instantly. His body was taken from the battlefield to Taneytown and then to his home town of Lancaster, just 55 miles away. He was buried there on July 3.
It was only after his death that Reynolds' relationship with Katherine Hewitt became known. She and Reynolds had agreed that if he were to not survive the war she would join a convent. She joined the St. Joseph Central House of the Order of the Daughters of Charity in Emmitsburg.
Monuments
There are three monuments to John Reynolds on the Gettysburg battlefield. His monument in the Nation Cemetery (below) was one of the first monuments and the first brass monument at Gettysburg.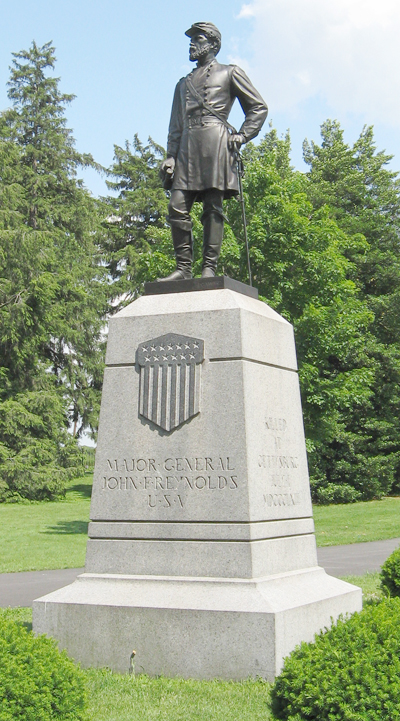 There is an imposing equestrian monument greeting visitors coming into the park from the west along the Chambersburg Pike, as well as a small stone monument marking the location where he was shot. Reynolds' statue is also on the State of Pennsylvania Monument. Outside of Gettysburg, there is a monument to Reynolds outside of the Philadelphia City Hall.