John Gibbon was a career soldier in the United States Army who fought in most of the great battles of the Eastern Theater of the Civil War.
Early life
John Oliver Gibbon was born in Philadelphia, Pennsylvania on April 20, 1827. His father was Dr. John Heysham Gibbon and his mother Catherine Lardner Gibbon. The family moved to Charlotte, North Carolina when he was ten when his father became chief assayer of the U.S. Mint in Charlotte, North Carolina.
John began his time at the United States Military Academy on September 1, 1842. After repeating his first year due to disciplinary problems he became part of the West Point Class of 1847. He made up for his early mistakes by adopting a strong discipline that he would continue through his entire army career, and graduated 20th out of a class of 38. Notable classmates included Ambrose Burnside, Henry Heth, Ambrose Powell Hill and Orlando Bolivar Wilcox. After graduation John was commissioned on July 1, 1847 as a Brevet Second Lieutenant in the Third Regiment of Artillery.
Before the Civil War
John served in the Mexican War, but did not see any fighting. He was transferred to the 4th Artillery and was promoted to Second Lieutenant. In 1848 he was in the garrison at Fort Monroe, Virginia before moving to Fort Brooke, Florida during the war against the Seminoles. In 1850 he moved to Fort Ringgold, Texas, and was promoted to First Lieutenant on September 12, 1850.
He served on court martial duty in 1852-1953 and was assigned to remove Seminoles from Florida to west of the Missippippi from 1853-1854. On September 25, 1854 he was posted to West Point as Assistant Instructor of Artillery.
In 1855 Gibbon married Francis "Fannie" Moale. The couple had four children, Frances Moale Gibbon, Catharine "Katy" Lardner Gibbon, John Gibbon, Jr. (who died shortly after birth) and John S. Gibbon.
From September of 1856 to August of 1859 he was appointed Quartermaster and served on a board testing breechloading rifles. 1859 Gibbon published The Artillerist's Manual, which was used by both sides in the approaching Civil War.
In November of 1859 Gibbon was promoted to captain of the 4th Artillery and assigned to frontier duty in Utah territory. When the Civil War began he was commanding Battery B, 4th United States Artillery at Camp Floyd in Utah. He marched them from Fort Crittenden, Utah to Fort Leavenworth, Kansas in 1861 as the county prepared for war.
Early Civil War
After the attack on Fort Sumter in April of 1861 it could have been expected that Gibbon would throw in his lot with the South. He had spent much of his life there. His father was a slaveholder. Three of his brothers and his cousin would join the Confederacy, and his wife was from Baltimore. But John took seriously his oath to the United States, and reported for duty in Washington. He became Chief of Artillery for Major General Irvin McDowell's Division of the Army of the Potomac on October 29, 1861.
On May 2, 1862 John Gibbon was promoted to Volunteer Brigadier General and given command of a brigade of Infantry (Third Brigade, Third Division) in the Department of the Rappahannock. The brigade consisted of three Wisconsin and one Indiana regiments. He ordered them to wear white leggings and the black "Hardee Hats" worn by the Regular Army, and the men took pride in becoming known as the "Black Hat Brigade." The white leggings were less admired by the men, and one morning Gibbone awoke to find his horse outfitted in white leggings.
Civil War Actions
August 12 – September 6, 1862 – Northern Virginia Campaign
August 28 – Battle of Gainesville
August 30 – Second Battle of Bull Run, or Manassas
September – November – Maryland Campaign
September 14, 1862 – Battle of South Mountain. After the fighting at Turner's Gap General Joseph Hooker gave Gibbon's men the nickname "Iron Brigade."
September 17, 1862 – Battle of Antietam. Awarded Brevet Major in the Regular Army for "Gallant and Meritorious Services"
November 1862 – June 1863 – Rappahannock Campaign
December 13, 1862 – Battle of Fredericksburg. Gibbon was wounded and disabled during the attack on Lee's right flank. Awarded Brevet Lieutenant Colonel in the Regular Army for "Gallant and Meritorious Services." He returned to duty on March 23, 1863 and in April was given command of a different division (Second Division, Second Corps) that was in the Second Corps.
May 3, 1863 – Storming of Marye Heights (Second Battle of Fredericksburg)
June – July 1863 – Pennsylvania Campaign
July 2-3, 1863 – Battle of Gettysburg. Gibbon was badly wounded while temporarily commanding Second Corps during Pickett's Charge. He was awarded the rank of Brevet Colonel in the Regular Army for his "Gallant and Meritorious Services."
Gibbon took a leave of absence to recuperate from his wound. He attended the dedication of the National Cemetery on Novmber 19 and heard President Lincold deliver the Gettysburg Address. He then went on to command a draft depot in Cleveland, Ohio in November, 1863, and in Philadephia from November until March of 1864. He returned to duty on March 21, 1864 commanding his old division of the Second Corps in the Army of the Potomac.
March 1864 – April 1865 – Overland Campaign
May 5-6 – Battle of the Wilderness
May 9-20 – Battle of Spotsylvania Court House. Awarded Brevet Brigadier General in the Regular Army for "Gallant and Meritorious Services."
May 23‑26, 1864 – Battle of North Anna
May 29, 1864 – Battle of Tolopotomy
June 1‑3, 1864 – Battle of Cold Harbor
PGibbon was promoted to Major General in the Volunteer Army on June 7, 1864.
June 15, 1864 – April 2, 1865 – Petersburg Campaign
August 25, 1861 – Battle of Reams' Station.
Gibbon was given command of the 24th Corps of the Army of the James in January of 1865.
April 1-2 – Capture of Petersburg. He was awarded the rank of Brevet Major General in the Regular Army for "Gallant and Meritorious Services."
April 1 – April 9, 1865 – Appomattox Campaign
April 3-9 – Pursuit of Rebel Army
April 9 – Surrender of General Lee and the Army of Northern Virginia at Appomattox Court House. Gibbon was one of the commissioners for carrying out the terms of surrender.
From April 18, 1865 until January 15, 1866 Gibbon commanded the District of Nottoway. He was mustered out of the Volunteer Army January 15, 1866, returning to his prewar rank of captain.
Postwar Service
Gibbon served on the Artillery Board from January 30 to August 28, 1866. He also served on a Board of Brevet Promotions from May 23 to September 24, 1866. On July 28, 1866 he was promoted to Colonel of the 36th Infantry Regiment. After a period where he was awaiting orders Gibbon was given command of Fort Kearney, Nebraska from December 1, 1866 to May of 1867. He then took command of Fort Sanders, Dakota Territoy until December of 1868, including command of the Rocky Mountain District.
He took a leave of absence from December of 1868 until June of 1869, then took command of the 7th Infantry Regiment at Camp Douglas, Utah. On June 9, 1870 he took command of Fort Shaw and the District of Montana. In October of 1872 he took a leave of absence until January of 1873, then served as Superintendent of General Recruiting Service at New York until September. After another Leave of Absence he returned in in July of 1874 to Fort Shaw, Montana,
From March 21 until October 4 of 1876 Gibbon commanded the Yellowstone Expedition. On June 27, 1876 he rescued the survivors of Custer's command from the Little Bighorn Battlefield, returning to his regiment and Fort Shaw at the end.
On August 9-10, 1877, he fought the Nez Perce under Chief Joseph in Montana at the Battle of Big Hole. Gibbon was wounded in the battle that saw heavy casualties for both sides.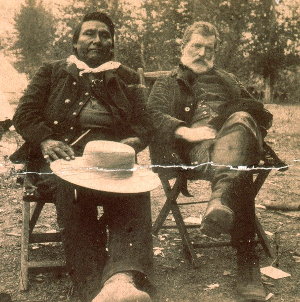 Gibbon was promoted to Brigadier General and given command of the Department of the Columbia from July 29, 1885 to April 30, 1891. He was also in command of the Division of the Pacific from Sept. 1, 1890 to April 30, 1891.
Gibbon retired from Active Service on April 30, 1891 at the age of 64.
Death
John Oliver Gibbon died in Baltimore, Maryland on February 6, 1896, at the age of 68. He was buried in in Arlington National Cemetery in Section 2, Grave 986.
His first book, The Artillerists Manual, was published by the War Department in 1860. His second book, Personal Recollections of the Civil War, was written in 1885 but was not published until many years later in 1928, 32 years after his death. A second posthumous book, Adventures on the Western Frontier, was published in 1994. Gibbon also wrote over two dozen articles, including Hunting Sitting Bull and Last Summer's Expedition Against the Sioux, in the American Catholic Quarterly in 1877, The Battle of the Big Hole, written for Harpers Weekly in 1895, and Gibbon on the Sioux Campaign of 1876.
Four towns are named after John Gibbon in some form, in Idaho, Nebraska, Oregon, and Washington. The Gibbon River and Gibbon Falls in Yellowstone Nation Park are also named after him, a legacy of his 1872 expedition there.
In 1988 a statue of John Gibbon was unveiled on his monument on the battlefield at Gettysburg. It was the 125th Anniversary of Gibbon's defence of Cemetary Ridge and his wounding during Pickett's Charge.